The Spinal Cord Injury (SCI) Rehabilitation & Research Program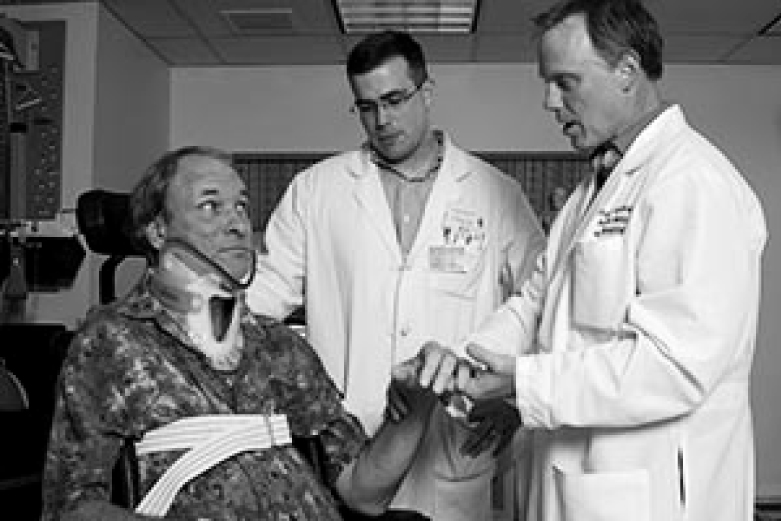 The Spinal Cord Injury (SCI) Rehabilitation and Research Center at Virginia Commonwealth University Health System (VCUHS) provides comprehensive state-of-the-art care with a commitment to improve hope, function and quality of life. Recognized as  one of the top programs in the nation by US News & World Report, VCUHS is the only Level I trauma center in central Virginia and one of just 20 institutions nationwide to have had federal designation as a Model Systems for SCI Care.
The goal of the national SCI research program at VCUHS is to pursue medical and therapeutic advancements in care and outcomes for individuals with SCI. The program actively participates in collaborative projects sponsored by the National SCI Model Systems and provides leadership in national dissemination and education.
Rehabilitation at the RRC is an intensive program focused on functional assessment, therapeutic intervention, community reintegration and long-term clinical follow-up. Interventions include medical management along with maximizing self-care, mobility and psychosocial abilities. State-of-the-Art Emergency Medicine, Neurosurgical and PM&R services are in place for individuals with spinal cord injuries.
Leading Therapy Tools and Programs:
"Circuit Resistive Training and Therapeutic Exercise"
"Early Motor Recovery after SCI"
"ERGYs" – Functional Electrical Stimulation
"LiteGait" – Locomotor Training
"Metabolic Syndrome and SCI"
"Needs Assessment of Virginians with SCI"
"Outcomes in Incomplete SCI Syndromes"
"Outcomes in Non-Traumatic SCI"
"TekScan"- Pressure Mapping System
"Vocational Rehabilitation"
SCI Facts & Figures
85 new spinal cord injuries  each year at VCUHS
Average age: 38 years
Most common causes: Vehicle crash 35%, falls 20%, non traumatic 20%
Spinal Cord Injury Outreach & Dissemination
To learn more about the program that the Gerry Bertier #42 Foundation is supporting, please visit their website at http://sci.pmr.vcu.edu.